Hikvision DS-2CD4A26FWD-IZS/P 8-32mm caméra lecture de plaque 60 images/s Darkfighter
CFA708,480
60 FPS.png IR-EXIR.jpg WDR1.png
Caméra lecture de plaque (APNR et LPR) varifocale motorisée 8-32 mm 60 images par seconde
Vision de nuit 100 mètres EXIR 2.0 PoE
Cette caméra full HD 2MP à lecture de plaque et système intelligent de trafic permet de capturer des plaques d'immatriculation de voiture roulant jusqu'à 80 km/h grâce à ses 60 images par seconde.
la focale variable de cette caméra est de 8mm à 32mm (lecture de plaque jusqu'à 40 mètres et voiture roulant à moins de 80km/h).
La fonction ANPR détecte et reconnaît les plaques d'immatriculation des véhicules. Les informations peuvent ensuite être envoyées à un NVR intelligent ou à un logiciel de gestion de vidéo. Cette fonction permet la supervision des vidéos et la localisation de chaque véhicule dans une période de temps donnée. Idéale pour les enquêtes après un accident, pour faire du comptage de véhicules par exemple.
La fonction de lecture de plaque permet de nombreuses autres applications comme de créer des listes blanches ou des listes noires des plaques minéralogiques. Ces listes s'avèrent très utiles pour gérer des scénarios comme ouvrir une barrière automatiquement, générer une alerte, optimiser la gestion de voies réservées (taxis, transports publics etc), connaitre les horaires d'entrée/sortie des véhicules, assurer le respect des règles de circulation, rechercher de voitures volées, encaissement automatique au péage…
Le taux de capture dépasse 99% et le taux de reconnaissance dépasse 98%. Ces caméras sont extrêmement précises.
La caméra DS-2CD4A26FWD-IZS/P embarque la technologie darkfighter. Les caméras Darkfighter sont équipées de capteurs CMOS à balayage progressif1/2" leur permettant d'obtenir une grande qualité d'image, avec une bonne qualité de couleur à des niveaux de luminosité aussi faibles que 0,002 lux, que l'œil humain perçoit en tant qu'obscurité totale. Les caméras Darkfighter sont idéales pour les surveillances nocturnes discrètes. En effet, leur grande sensibilité rend toute source de lumière supplémentaire inutile. Ces caméras peuvent voir en couleur la nuit.
Pour plus de détails sur la technologie darkfighter, vous pouvez télécharger la brochure.
Compatible Windows XP, Windows 7, Windows 8 et Windows 10 et MAC
Cette caméra lecture de plaque est compatible avec les NVR de la série "I"
Caméra non compatible avec la solution Cloud Hik-Connect de visualisation à distance.
Caméra darkfighter à lecture de plaque Hikvision DS-2CD4A26FWD-IZS/P
La caméra DS-2CD4A26FWD-IZS/P est une caméra varifocale motorisée (permettant de faire un zoom optique) qui bénéficie d'une haute définition d'image full HD 2MP 1080p. Elle restitue des images d'excellente qualité avec un rendu des couleurs très fidèle même dans l'obscurité.
Elle embarque la technologie de lecture de plaque d'immatriculation permettant de lire et d'enregistrer les plaques des voitures pour exploiter ces informations sur différents types de scénarios.
Fonction Darkfighter

Cette caméra embarque la technologie exclusive Darkfighter qui lui permet de bénéficier d'une image en couleur même en situation de très basse luminosité grâce à sa sensibilité de 0.002 Lux. Dans le noir complet, elle offre une très belle image en noir et blanc. En comparaison, une nuit de pleine lune bénéficie d'un éclairage de 0.5 Lux.
Fonction lecture de plaque

Cette caméra a pour fonction de capturer les plaques d'immatriculation. En France et en Europe, le taux de capture de plaque est supérieur à 99% et le taux de reconnaissance des plaques d'immatriculation est supérieur à 98%.

Son algorithme d'apprentissage profond (deep learning) lui permet de catégoriser les véhicules (motos, voitures, camions, camions légers…), mais également de reconnaitre les couleurs des véhicules, leur plaque ADR (transport de matières dangereuses), de leur indicateur de vitesse.
Ce logiciel d'apprentissage lui permet de gérer des situations particulières, telles qu'un angle important du véhicule, éblouissement, fortes intempéries, brouillard…
Fonction varifocale motorisée
Cette caméra est équipée de la fonction varifocale motorisée. Cette fonctionnalité permet de régler l'angle de vision pour l'adapter très précisément à la scène que l'on souhaite filmer. La varifocale est une fonction de type zoom optique qui permet de conserver toute la qualité de l'image contrairement à un zoom numérique. La distance focale varie de 8mm à 32mm pour un angle de vision horizontal de 42° à 13.5° avec une résolution full HD de 1920 x 1080 pixels.
Connectique
Cette caméra IP possède une connectique intégrée dans son support comprenant un connecteur RJ45 femelle, deux prises jack pour l'audio et connecteurs IN et OUT pour l'alarme.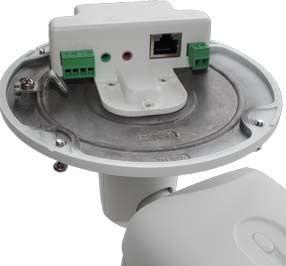 Vision nocturne
Grâce à son système de LED infrarouge associé à la technologie EXIR 2.0 elle voit parfaitement la nuit dans l'obscurité totale jusqu'à 50 mètres.

La technologie EXIR 2.0 est l'évolution de la technologie exclusive EXIR qui permet un gain de 30% de la vision nocturne.
les avantages de l'EXIR 2.0 sont :
Diffusion thermique améliorée

Amélioration de la durée de vie de 20 000 heures

Élimination d'une lentille secondaire pour la mise au point de la lumière infrarouge

Facteur de forme plus petit
EXIR : EXtentended InfraRed
Audio
Cette caméra possède 2 prises jack, une audio in, une audio out.

Emplacement
Elle est destinée à être installée en extérieur mais peut également être installée en intérieur dans un hangar ou un entrepôt par exemple.

Certification
Elle est certifiée IP67 ce qui lui garanti une étanchéité totale et une résistance contre tout type d'intempéries.

Alimentation
Cette caméra peut être aussi bien alimentée en PoE qu'avec une alimentation 12V (non fournie avec la caméra). La fonction PoE lui permet d'être alimentée directement par le câble RJ45. Pour fonctionner en PoE elle doit être reliée à un équipement PoE comme un injecteur PoE, un switch PoE ou un NVR PoE (les box internet des opérateurs ne sont pas PoE).
Fonctions d'alertes intelligentes



La DS-2CD4A26FWD-IZS/P possède de nombreuses fonctionnalités intelligentes de sécurité telles que :

Détection de mouvement

Détection de visage

Franchissement de ligne virtuelle définie par l'utilisateur

Détection d'intrusion dans une zone virtuelle

définie par l'utilisateur

bagage sans surveillance

Disparition d'objet

Anti-sabotage

Masque de confidentialit

é
Amélioration du traitement de l'image
Son processeur ultra-puissant lui permet d'optimiser le traitement vidéo afin de bénéficier d'images exceptionnelles.

WDR 120dB

(amélioration de la gestion des contre-jours)

BLC (amélioration des images en basse luminosité)
3D DNR (réduction des erreurs lors des mélanges des couleurs et

diminution des bruits d'image

)
ROI (concentration de la qualité sur des zones précises pour en améliorer la précision)
Optimisation des flux
Grâce à l'intégration d'algorithme de compression très performants la consommation de bande passante internet et l'espace de stockage sont divisés par 3 grâce au codec H264+.

Elle gère les codec :
Système d'exploitation (OS)

Compatible Windows (XP, 7, 8 et 10) et MAC
Compatible iOS et Android
Caractéristiques techniques
Camera

Capteur d'image


1/1.18″  balayage progressif CMOS


Min.   Illumination

Couleur : 0.002 Lux @(F1.6,AGC ON), 0 Lux avec IR (Infra Rouge)

Vitesse d'obturation

1/3s à 1/100,000s, supporte obturation lente


Lentille

8 mm à 32mm – horizontal : 42° à 13.5°

Vision nocturne


100m EXIR 2.0 – Longueur d'onde 850nm

Jour & Nuit


Activation du filtre IR automatique


Réglages sur 3 axes (support)

Pan : 0° à 360°, tilt : 0° à 90°, rotation : 0° à 360°

DNR (Digital Noise Reduction)

3D DNR (amélioration des images)


WDR (Wide Dynamic Range)

120 dB (compensation contre-jour)


Compression Standard

Compression vidéo


Flux principal : H.264+/H.264

Flux secondaire : H.264/MJPEG

Débit vidéo


32 Kbps à 16 Mbps

Compression audio


G.711/G.722/G.726/MP2L2/PCM

Débit audio


64 Kbps (G.711), 16 Kbps (G.722), 16 Kbps (G.726), 32-192 Kbps (MP2L2)


Image

Max.   Résolution

1920 × 1080

Flux principal


50Hz: 50fps (1920 × 1080, 1280 × 960, 1280 × 720)
60Hz: 60fps (1920 × 1080, 1280 × 960, 1280 × 720)

Flux secondaire


50Hz: 25fps (704 × 576, 640 × 480, 352 × 288)
60Hz: 30fps (704 × 480, 640 × 480, 352 × 240)

Flux tertiaire

50Hz: 25fps (1920 × 1080, 1280 × 960, 1280 × 720, 704 × 576, 640 × 480, 352 × 288)
60Hz: 30fps (1920 × 1080, 1280 × 960, 1280 × 720, 704 × 480, 640 × 480, 352 × 240)

Amélioration image

BLC /3D DNR/Defog/EIS

Paramètres image


Rotation du mode, Saturation, Luminosité, Contraste, Netteté réglable par logiciel client ou navigateur Web

Bascule jour/nuit


Automatique, sur calendrier ou planifié

Autre

Miroir, BLC (zone configurable), Region of interest (supporte 1 zone pour chaque flux)

Audio

Connexions

2 prises jack, une audio in (3.5mm), une audio out (3.5mm)

Filtrage bruit environnant


Supporté


Taux d'échantillonnage audio


8kHz/16kHz/32kHz/44.1kHz/48kHz


Fonctionnalités intelligentes


Analyse comportementale


Détection de franchissement de ligne, détection d'intrusion, détection d'objet sans surveillance, détection d'objets disparu d'une scène


Reconnaissance

Reconnaissance faciale

Alarmes

Détection de mouvement, réseau déconnecté, conflit d'adresse IP, erreur carte SD, connexion illégale, altération vidéo


Autre

Miroir, BLC (zone configurable), Region of interest (supporte 1 zone pour chaque flux)

Fonctions générales


Anti-scintillement, heartbeat, miroir, protection mot de passe, masque de confidentialité, filtrage d'adresse IP

Réseau


Protocoles

 TCP/IP, ICMP, HTTP, HTTPS, FTP, DHCP, DNS, DDNS, RTP, RTSP, RTCP, PPPoE, NTP, UPnP, SMTP, SNMP, IGMP, 802.1X, QoS, IPv6, Bonjour

Standards

ONVIF (PROFILE S, PROFILE G), PSIA, CGI, ISAPI

Interface

Interface réseau


1 RJ45 10M/100M auto-adaptatif port Ethernet (RJ45)


Bouton reset


Oui


Audio


2 prises jack, une audio in (3.5mm), une audio out (3.5mm)


Interface alarme


Une entrée, une sortie (max. 12 VDC)


Général

Conditions de fonctionnement


-30 °C à 60 °C, humidité : 95% ou moins (hors condensation)

Alimentation

12VDC ± 25%, PoE (802.3at)

Consommation

12 VDC, 1.5A Max. 17.6W

PoE (802.3at, 42.5V à 57V), 0.5 à 1A, max19 W

Indice de protection

IP67, IK10, TVS 2000V protection contre la foudre, protection contre les surtensions


Distance IR


Jusqu'à 100 m EXIR 2.0


Dimensions

Caméra: 100 × 103.9 x 311.8 mm


Poids

2,075 Kg

Vendor Information
Store Name:

HIKVISION CAMEROUN

Vendor:

HIKVISION CAMEROUN
Address: 1270, rue Galien Akwa, Douala
Ancien MAKUMBA MAKUMBA, entre le carrefour ideal et le carrefour TIF
Cameroun
Littoral
237
Cameroon
No ratings found yet!