Caméra IP Hikvision DS-2CD6365G0E-IVS Fisheye 360° Ultra HD 6MP PoE
CFA541,200
Hikvision DS-2CD6365G0E-IVS Fisheye 360° Ultra HD 12MP PoE
La caméra Fisheye DS-2CD6365G0E-IVS permet une vision panoramique à 360°.
Les caméras fisheye permettent d'obtenir une vue à 360° pour ne laisser aucun angle mort.
Cette caméra fait partie de la nouvelle gamme de caméras intelligentes DeepinView
L'algorithme Deep Learning se focalise uniquement sur les cibles humaines, améliorant ainsi la précision de la fonctionnalité de Heat Map. Cela signifie que les utilisateurs peuvent repérer les zones populaires dans un espace donné (zones chaudes), montrant les zones que les gens visitent, ou celles où ils passent, le plus. Une couche supplémentaire à la visualisation de Heat Map la rend beaucoup plus claire que les technologies précédentes, présentant plus d'informations de manière plus claire.
Elle gère les flux vidéo au format H265, H265+, H264 et H264+ avec une qualité d'image haute définition 3072 x 2048.
Le codec H265+ permet une meilleure compression des flux vidéo ayant pour résultat de diminuer de 60% l'espace de stockage et la bande passante nécessaire à la visualisation d'un flux vidéo.
Sa vision nocturne porte jusqu'à environ 15 mètres avec 3 leds gérables de manière indépendantes.
Elle intègre un emplacement pour une carte micro SD jusqu'à 256Go.
Cette caméra IP panoramique permet d'avoir une vision complète à 360°. Elle offre de nombreux choix de configuration, notamment la possibilité de créer plusieurs flux PTZ.
Compatible Windows XP, Windows 7, Windows 8 et Windows 10
Caméra panoramique 360° DS-2CD6365G0E-IVS
La caméra DS-2CD6365G0E-IVS est une caméra panoramique à 360° qui restitue des images avec un rendu des couleurs très fidèle.
Vision nocturne
Grâce à son système de LED infrarouge en 850nm (nanomètre) elle bénéficie d'une bonne vision nocturne dans l'obscurité totale jusqu'à 15 mètres.

Emplacement
Elle est destinée à être installée en intérieur comme extérieur.

Certification
Elle est certifiée IP67 ce qui lui garanti une étanchéité totale et une résistance contre tout type d'intempéries et IK10 (norme antivandale).

Alimentation
Cette caméra peut être aussi bien alimentée en PoE qu'avec une alimentation 12V (non fournie avec la caméra). La fonction PoE lui permet d'être alimentée directement par le câble RJ45. Pour fonctionner en PoE elle doit être reliée à un équipement PoE comme un injecteur PoE, un switch PoE ou un NVR PoE (les box internet des opérateurs ne sont pas PoE).
Visualisation à distance
Hikvision propose gratuitement l'application Hik-Connect. Avec cette application configurée sur un smartphone ou une tablette (Android ou iOS), vous pouvez visualiser en temps réel votre caméra où que vous soyez. Si votre caméra est reliée à un NVR vous pouvez même consulter les vidéos enregistrées sur ce dernier.

Elle vous alerte également en temps réel si elle détecte une intrusion grâce à ses fonctions d'alertes évoluées.

Fonctions d'alertes intelligentes



La caméra panoramique DS-2CD6365G0E-IVS intègre de nombreuses fonctionnalités intelligentes de sécurité telles que :
6 analyses de comportement et 3 détections d'exception

Carte de température (zone chaude pour analyser le endroits les plus fréquentés) avec algorithme d'apprentissage (attention ce n'est pas une caméra thermique)

Analyse des flux


Jusqu'à 15 modes d'affichage

Détection de mouvement

Franchissement de ligne virtuelle définie par l'utilisateur

Détection d'intrusion dans une zone virtuelle

définie par l'utilisateur

Détection d'entrée dans la région (

définie par l'utilisateur)

Détection de sortie d'une région (

définie par l'utilisateur)

Anti-sabotage

Masque de confidentialit

é
Amélioration du traitement de l'image
Son puissant processeur lui permet d'optimiser le traitement vidéo afin de bénéficier d'images d'excellente qualité.

WDR 120dB

(amélioration de la gestion des contre-jours)

BLC (amélioration des images en basse luminosité)
3D DNR (réduction des erreurs lors des mélanges des couleurs et

diminution des bruits d'image

)
ROI (concentration de la qualité sur des zones précises pour en améliorer la précision)
Stockage
La DS-2CD6365G0E-IVS possède un emplacement pour y insérer une carte micro SD d'une capacité maximale de 256Go pour sauvegarder plusieurs jours les vidéos enregistrées par la caméra.
Optimisation des flux
Grâce à l'intégration d'algorithme de compression très performants la consommation de bande passante internet et l'espace de stockage sont divisés par 3 grâce au codec H265 et sa version optimisée le H265+.
Elle gère les codec :
H265+

H265

H264+

H264

MJPEG
Système d'exploitation (OS)



Compatible Windows (XP, 7, 8 et 10) et MAC
Compatible iOS et Android
Caractéristiques techniques
Camera DS-2CD6365G0E-IVS

Capteur d'image


1/1.8″  balayage progressif CMOS


Min.   Illumination

Couleur : 0.01 Lux @(F1.2,AGC ON), 0 Lux avec IR (Infra Rouge)

Vitesse d'obturation

1/3s à 1/100,000s, supporte obturation lente


Lentille

1.27 mm : angle de 180° en montage mural et 360° en montage horizontal (sous un plafond ou sur une table)

Vision nocturne


15m – Longueur d'onde 850nm via 3 leds contrôlable indépendamment


Jour & Nuit


Activation du filtre IR automatique


DNR (Digital Noise Reduction)

3D DNR (amélioration des images)


WDR (Wide Dynamic Range)

120 dB (compensation contre-jour)


Compression Standard et Audio


Compression vidéo


Flux principal : H.265+/H.265/H.264+/H.264

Flux secondaire : H265/H.264/MJPEG

Débit vidéo


32 Kbps à 16 Mbps

Compression audio

G.711/G.722.1/G.726/MP2L2/PCM

Audio Bit Rate

64Kbps(G.711)/16Kbps(G.722.1)/16Kbps(G.726)/32-160Kbps(MP2L2)

Image

Max.   Résolution

2688 × 1520

Flux principal


50Hz : 25 fps : 3072 × 2048, 2048 x

2048

, 1280 x 1280


60Hz :320 fps : 3072 × 2048, 2048 x 2048, 1280 x 1280


Flux secondaire


50Hz : 25fps (

720 x 720

)

60Hz : 30fps (720 x 720)


Amélioration image

WDR / BLC / 3D DNR / HLC


Paramètres image


Rotation du mode, Saturation, Luminosité, Contraste, Netteté réglable par logiciel client ou navigateur Web

Bascule jour/nuit


Automatique, sur calendrier ou planifié

Autre

Miroir, BLC (zone configurable), Region of interest (supporte 1 zone pour chaque flux)

Fonctionnalités intelligentes


Analyse comportementale


Détection de franchissement de ligne, détection d'intrusion, détection d'objet sans surveillance, détection d'objets disparu d'une scène


Alarmes

Réseau déconnecté, conflit d'adresse IP, erreur carte SD, connexion illégale, altération vidéo


Autre

Miroir, BLC (zone configurable), Region of interest (supporte 1 zone pour chaque flux)

Fonctions générales


Anti-scintillement, heartbeat, miroir, protection mot de passe, masque de confidentialité, filtrage d'adresse IP

Réseau


Protocoles

 TCP/IP, ICMP, HTTP, HTTPS, FTP, DHCP, DNS, DDNS, RTP, RTSP, RTCP, PPPoE, NTP, UPnP, SMTP, SNMP, IGMP, 802.1X, QoS, IPv6, Bonjour

Standards

ONVIF (PROFILE S, PROFILE G), PSIA, CGI, ISAPI

Interface

Interface réseau


1 RJ45 10M/100M auto-adaptatif port Ethernet (RJ45)


Audio

1 Audio input (line in, 3.5 mm), 1 audio output (line out, 3.5 mm);

1 built-in microphone, 1 built-in speaker, mono sound

Alarme

1-ch alarm input, max. 12 V; 1-ch alarm output, max 24 VDC, 1 A

Général

Conditions de fonctionnement


-30 °C à 60 °C, humidité : 95% ou moins (hors condensation)

Alimentation

12VDC ± 25% Prise d'alimentation coaxiale 5.5mm

PoE (802.3af, Class 3)

Consommation

12 VDC, 1A Max. 15W

PoE (802.3at, 42.5V à 57V), 0.4A à 0.3A


Indice de protection

IP67 et IK10


Dimensions

167 x 152.8 x 50mm

Poids

1.4Kg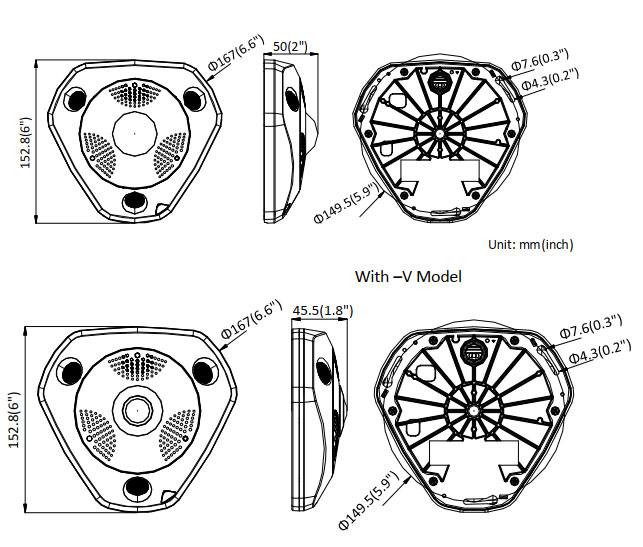 Vendor Information
Store Name:

HIKVISION CAMEROUN

Vendor:

HIKVISION CAMEROUN
Address: 1270, rue Galien Akwa, Douala
Ancien MAKUMBA MAKUMBA, entre le carrefour ideal et le carrefour TIF
Cameroun
Littoral
237
Cameroon
No ratings found yet!